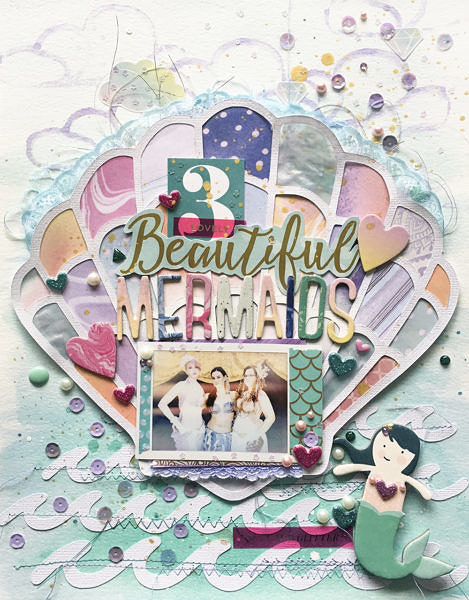 I'm back with a beachy mermaid themed layout for the ARTastic challenge blog! This month we were inspired by this lovely colourful beach painting by Peter Graham called Monaco Coast, and our challenge was to use paint.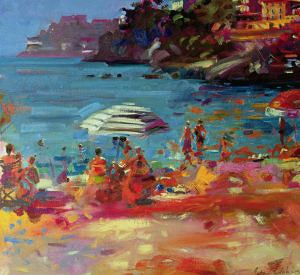 Doesn't that make you want to go to the beach right now? Since I couldn't go to the beach, I decided to make a watercoloured mermaid page.
I started with a page of watercolour paper. I painted on some teal watercolours, concentrating the colour at the bottom and gradually lightening as I went up, to give an ombre effect. While that dried, I cut a shell on my Cameo using a free cut file from Paper Issues called Feels like Summer. I also cut some waves of my own design. I backed the shell with a whole bunch of beautiful papers that I pulled from various paper pads, as well as some painted vellum. I love adding media to vellum- it always created the most beautiful effects. I layered the shell on some foam, lace and thread.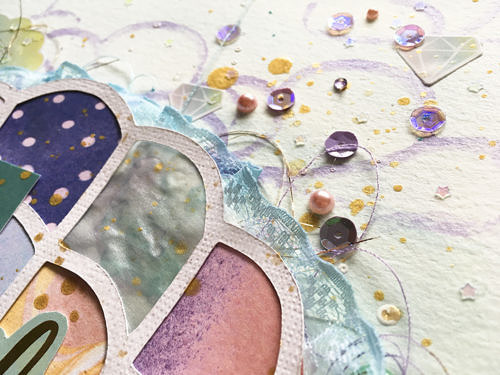 I used 2 new to me techniques on this layout- using watercolours as ink and foam as a stamp. I used my deep cut blade to cut a swirly cloud by Paige Evans from craft foam and used repositionable adhesive to attach it to an acrylic block. I swirled some purple glitter watercolour paint on some packaging and dipped my stamp in it. I love the effect this gave!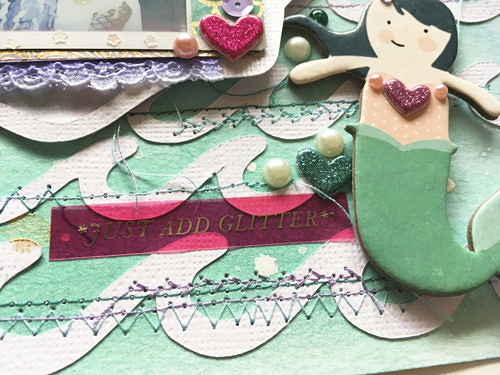 I stitched down the waves at the bottom using turquoise and purple threads in varying stitch patterns. This adorable chipboard mermaid is from Crate Paper Cute Girl. I dressed her up a little in a glitter heart puffy sticker and some pearls and gems, which I also scattered all over the page.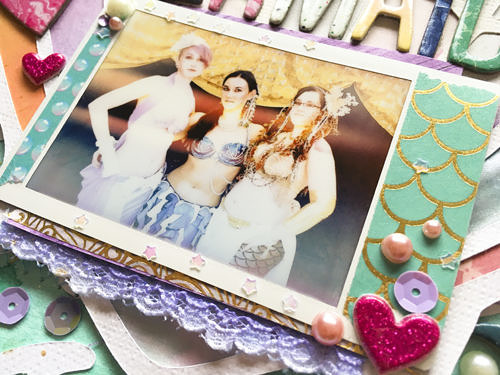 I printed my photo with my Instax printer, which I am still in love with. I decorated the frame in washi tape and tiny star sequins, and layered the photo on some pattern paper, lace and washi tape. I added the swirly gold washi tape to plain paper to make it like a pattern paper for layering.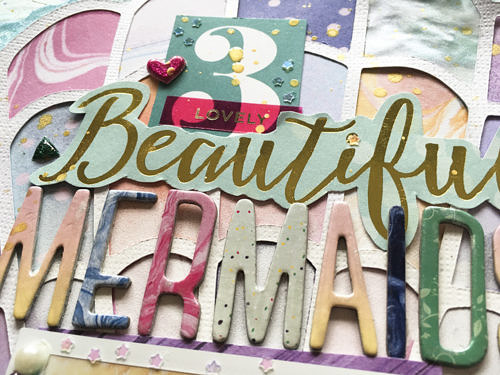 I thought I'd make a big bold title on the shell. I used Dear Lizzy Serendipity thickers, and to make them pop, I dabbed a bit of white gesso over the shell where the words were going to be. The 3 came from the Cute Girl ephemera pack- I splattered Heidi shine liberally on it (and the rest of the page), and added star sequins. The clear pink stickers are Heidi Swapp. I fussy cut Beautiful from a paper pad cut apart sheet.
Thanks for looking, and don't forget to pop over to the ARTastic challenge blog to post your own beach inspired layout using paint.
xoxo
A