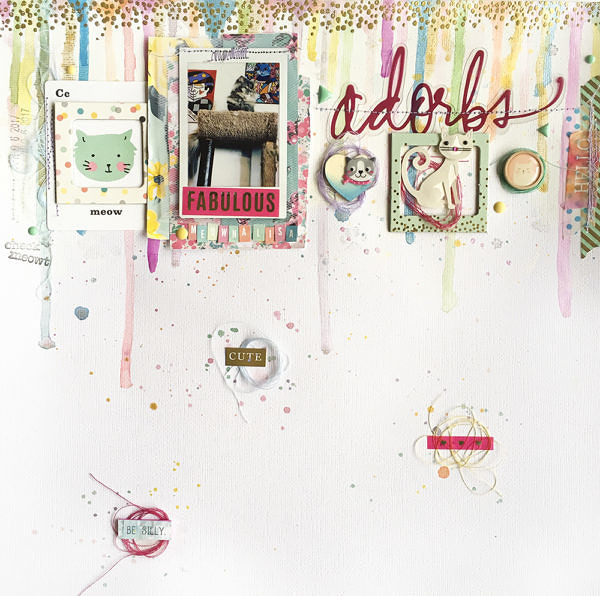 This totally adorbs layout is brought to you by Stick It Down's single page sketch this month, which is a horizontal design with three little hearts with thread, a small vertical photo, and clusters framing from the sides. Of course I ended up moving a few things around to make everything fit, but I really liked the starting inspiration.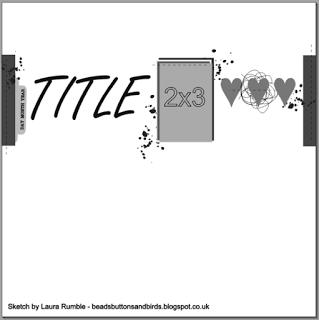 I really didn't know what I wanted to scrapbook on this page until I was about halfway through with the background. I definitely knew I wanted to use my shiny new shimmer watercolours from Michaels (yay for 50% off regular priced item coupons) and I also wanted to use my new fizzy bubbly stamp. I dripped the watercolours from the top of the page, and when it was dried I stamped and gold embossed the top. The stamp was actually top and bottom bubbles around the word cheers!, but I didn't want that, I just wanted the bubbles so I dabbed the embossing ink on only that part of the stamp.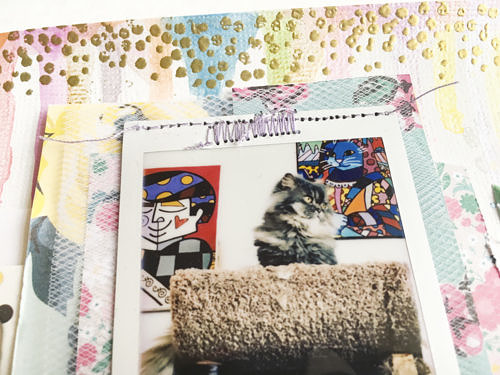 I picked this photo because it was all colourful like the background and also because it's vertical. From there I got the idea do little cat embellishments instead of hearts and to make the title one large but short acrylic word (from Heidi Swapp).
I didn't want them to be all the same either. But I still liked the idea of putting thread underneath them. I used a Heidi Swapp chipboard frame to make the middle cat pop (which is from a pack my friend Chantal sent me as a Valentine's day gift <3). The heart is a Crate Paper Shine wood veneer that I dabbed blue ink on, and then I stamped a paw print on it. I didn't end up liking it (not cause of the stamp, which my friend Jessie custom made for me- that I used all over the page in light grey). I just didn't like the colour I used or the wood texture. So I covered it up with a puffy sticker from the dollar store, and I think it looks so much cuter. The wood enamel button and enamel dots are from Crate Paper Little You.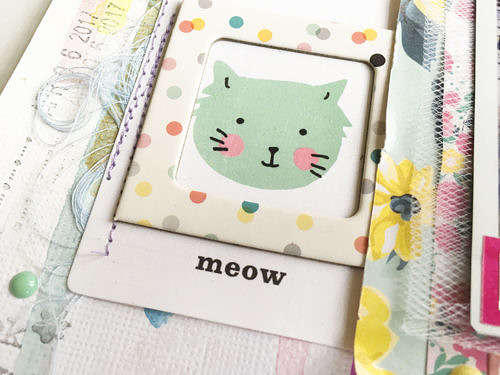 I also really wanted to use this adorable Crate Paper Cute Girl card and Simple Stories Carpe Diem frame, which meant there wasn't a lot of horizontal room left, which is why I moved the title over to the right on top of the embellishments. I did use a date stamp however. I don't know when the picture was taken but because it wasn't from an event or special day, just an everyday cute photo, I just used the date I made the page.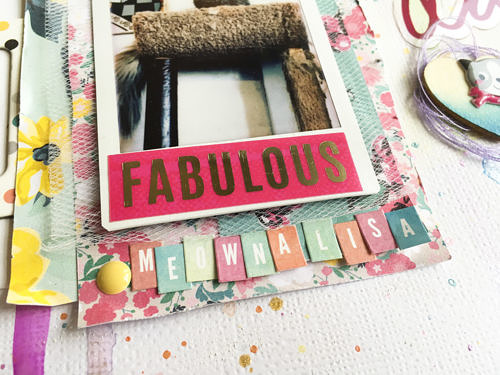 I love these Heidi Swapp clear pink and gold word stickers, and these Michael's brand mini alphas are amazing- all those colours are from the same pack and there 5 sheets- some blue green watercolour gradients and some pink purple. Of course I had to make some sort of cat art pun- Meowna Lisa, cause this photo is also documenting that Cat Mona Lisa picture that I painted (inspired by Romero Britto). I used some scrap pieces of pattern paper that I had cut and layered for another layout and didn't end up using, but I felt the colours worked really well for this layout. I also layered some tulle under the photo. Mostly because I couldn't find my tissue paper and the tulle was already out. But I thought it was pretty cute anyways, and good to do something different every once in a while.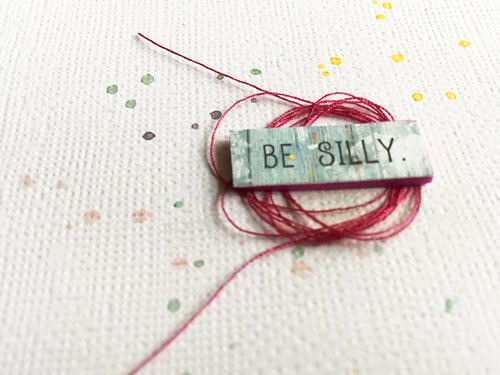 So I couldn't handle all that white negative space at the bottom of the page- I tried though, I really did. I stopped and then the next day I decided to add a few small clusters. There was also a few marks on the paper from my nail polish that I wanted to cover up- oops! I'm not sure why the thread looks read in this photo, cause it was hot pink. I used 3 different word sticker- this one that says Be Silly is from Webster's Pages Painted Passport- I didn't like the rest of the phrase (It said Be Silly, Be Honest, Be Kind, which seems a little silly for a cat page.) I popped it up on some pink foam for dimension. It was such a tiny sticker that I knew the foam would be visible, so I used a fun colour. The other two clusters are similar- one is a gold word sticker that says CUTE from MME's Necessities Metallics, and the other is gold hearts from the same clear pink sticker sheet at the FABULOUS sticker. I made the floating clusters small and simple (word sticker, thread, and a bit of watercolour splatter) so they wouldn't take away from the original design. But I really like the way it looks like they are dripping from the top of the page.
If you are as inspired as I was by this month's sketch, go check out the Stick It Down blog and link up your take on this.
xoxo
-A