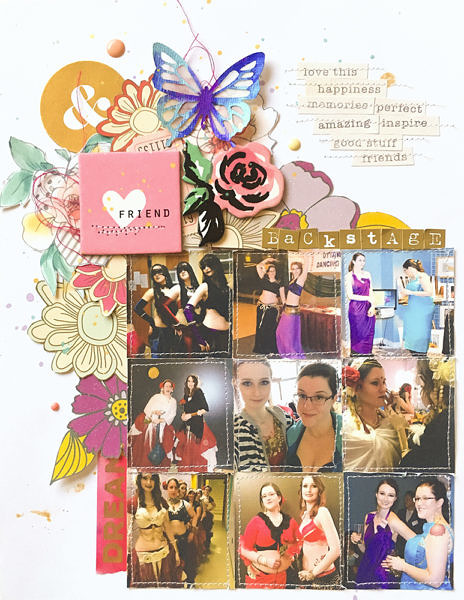 This was a fun layout to make. It is for the Stick it Down challenge blog, based on this sketch: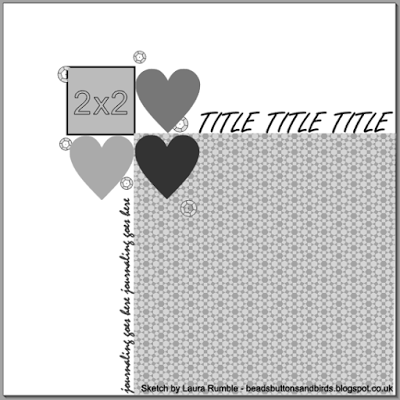 I had a lot of 2×2 photos that I wanted to use, I liked the grid pattern of the hearts, and I liked that I could fit all those photos into the patterned area of the sketch. When I was making this layout, I felt like fussy cutting as well. Flowers, in particular, as I had a lot of flower pattern papers that were calling my name. I stuck my photos down in the bottom right, touching in a grid pattern. I then stitched around every one, and lifted and distressed the edges.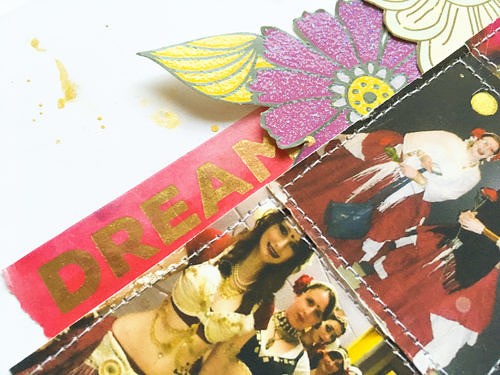 I kept the mixed media to a minimum here, as it was going to be a super busy layout. I just splattered a bit of watercolour and gold shine spray in the upper left corner. I fussy cut flowers that had similar colours to the photos- I wasn't sure if I would be able to make it work with so many busy photos but I think I managed to make it happen. This would definitely not have worked on a not-white background. Instead of journaling, I just used a strip of washi tape with shiny gold DREAM. Cause dancing with my ladies and my BFF is a dream come true :).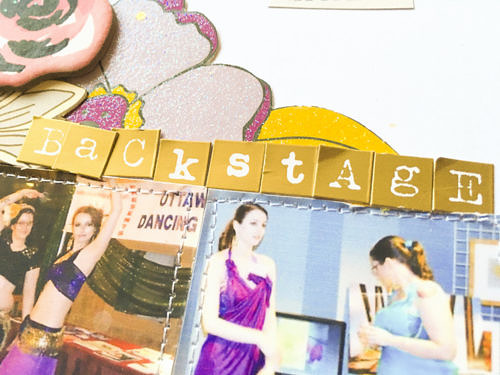 I kept the title small and simple, as I didn't want to draw attention away from the photos and flowers. Gold MME Necessities alphas with a bit of distressing (I had to move some letters to make it fit). Instead of sequins, I used a couple enamel dots.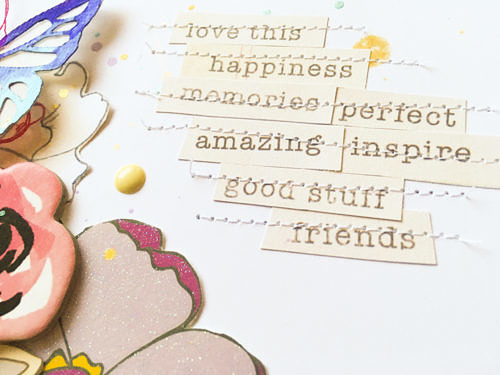 Here I had gone a little bit overboard with the mixed media- I had some wet Heidi shine on there and I smudged it and then I tried to cover it up by making the splatters bigger, but it was just too much and too busy. Somehow, covering it up with words cut out from a sheet from Crate Paper's Flea Market paper pad solved the problem. I stitched through the words for texture and to make them stick over the mixed media.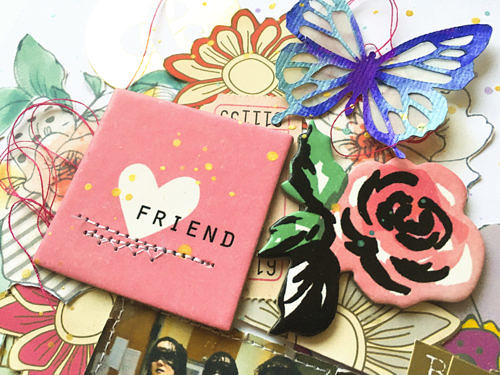 So since I made the photos be the big square, I wanted to use a small square embellishment in the upper left cluster. This chipboard FRIEND piece was perfect for that spot. To finish the cluster, I added a rose from the same chipboard sticker set (Cute Girl by Crate Paper). I also used one of the butterflies I had left over from a previous layout. The tangled thread and stitching added the last touch of texture to the cluster.
I love how this turned out, as I had been dreading making this page cause of all the photos that didn't quite match. But one sketch and idea later- this came together quickly, which was great cause the last layout I made took me 7 hours.
I hope I inspired you to think outside the box for photo placement, and to not be afraid of mixing tons of bright colours. Don't forget to upload your take on this sketch on the Stick It Down link-up.
xoxo
A