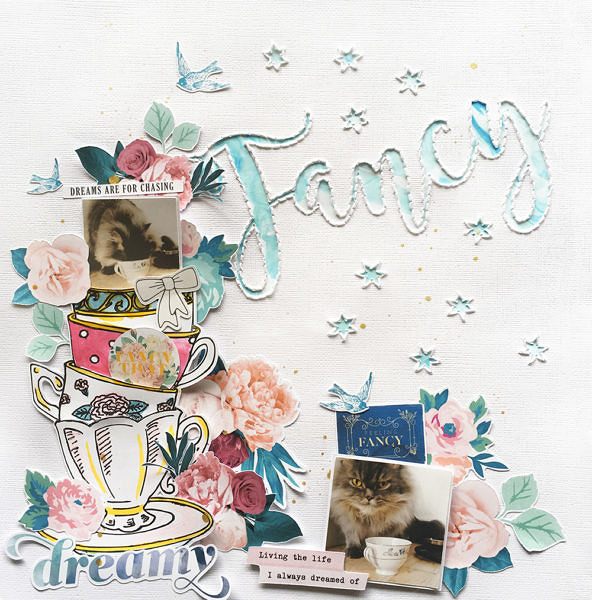 Isn't it dreamy? I've been wanting to scrap these photos for a while and this month's inspiration at ARTastic challenge blog was the perfect starting point. Our inspiration was called Abstract by Robert Klippel: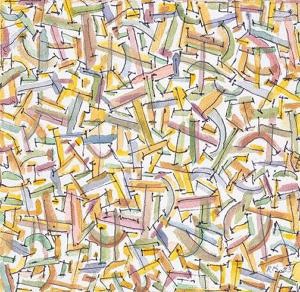 I was inspired by the white background and the combination of colours. The challenge was to use pen. And what's better than pen? Sketch pen!
I had drawn a stack of teacups a while back, inspired by a picture I saw on Pinterest, that I digitized. I did an offset and used the sketch and cut technique to make the stack of teacups into an embellishment. The only thing that I forgot to do was cut lines in the cups so I could tuck things in between the cups, but I just used an exacto knife to cut those. Then I used watercolours and gold ink to add some colour to the teacups. Finally I took the pen and drew over areas that I painted and that weren't completely filled by the sketching.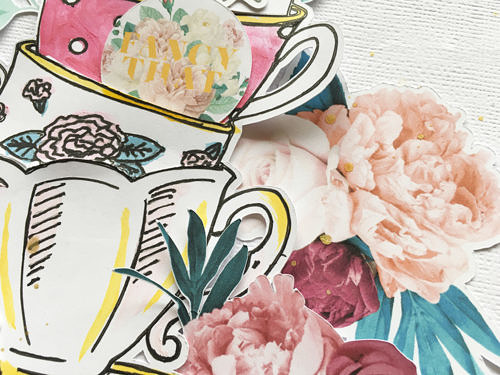 Next, for my background/title, I used a piece of white cardstock in my Cameo to cut the word Fancy (Magnolia Sky script) and some little stars. I backed that using some shaving cream marbled paper in blue. I then took a couple of hours to stitch all around the letters and stars with white embroidery floss.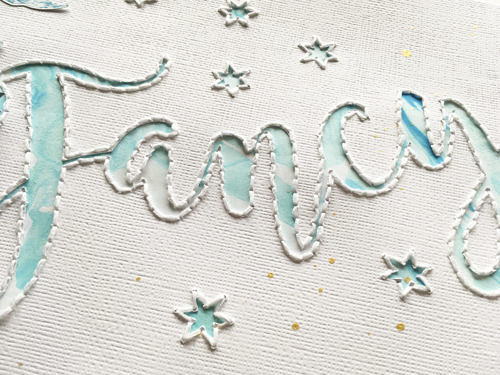 The last thing I did with my Cameo was print and cut a bunch of embellishments. I discovered the best thing every for Silhouette users. It's called ACdigitals.com and for $3 you can download a digital pack of embellishments from all of my favourite brands (Crate Paper, Pink Paislee, etc.). It was really hard, but I managed to limit myself to 6 packs. On this layout, I used Maggie Holmes Chasing Dreams and Pink Paislee's Moonstruck. I printed and cut some flowers and some words/phrases on white cardstock.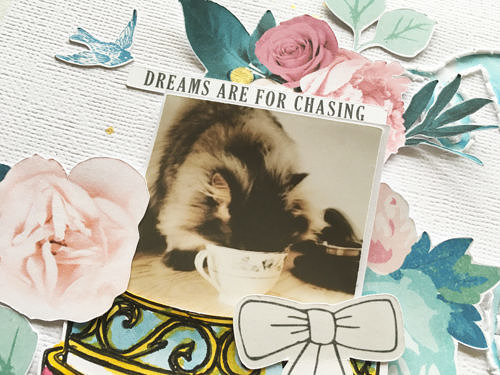 I absolutely adore the flowers in Moonstruck. The little birds are really cute too.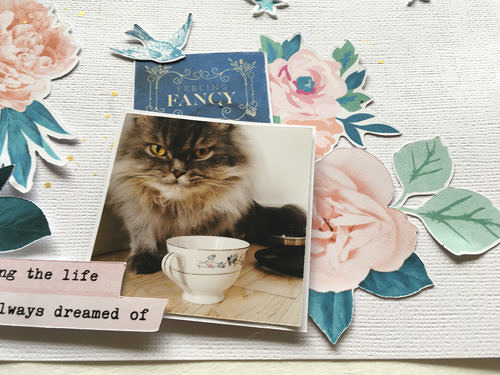 This photo I popped up on foam. My cat is so fancy! This layout is perfect for him. A little splattering of gold Heidi Shine, and this layout was complete.
Are you as inspired as I am? If so, show off your work by linking up on the ARTastic blog!
xoxo
-A