Hi everybody!
Sorry I've been so MIA these past few months… I've been crazy busy! I spent all of November working on a Dance Theater show with my dance troupe. It was an amazing success (sold out all 4 nights!) but in order to get to that stage, it took a lot of practice, which meant that I've had no free time ever. I have another dance show coming up next week, which I'm also busy practicing for and making costumes, etc.  I work full time, which in December means I work sunrise to sunset (ugh winter), which means I can't get any good photos of my projects that I do manage to get done. And between Christmas shopping and parties…. and I'm so behind on my xmas cards as well! I am planning on photographing my christmas cards tomorrow in the two minutes of sunlight I have, so next week will be card week on the blog! I did get a tiny bit of decorating done…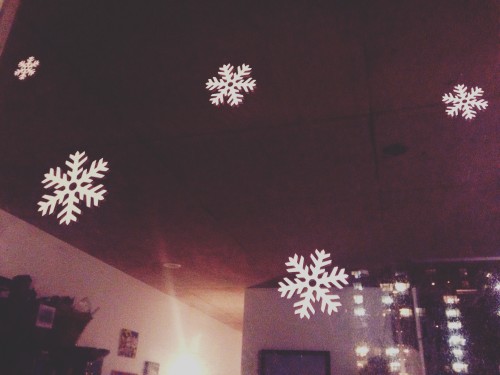 Today, I have a special snowflake treat for you guys! Snowflakes are my favorite decoration this time of year- being white they go with everything! I love making those 3D snowflakes… I'm sure you've seen them floating around Pinterest.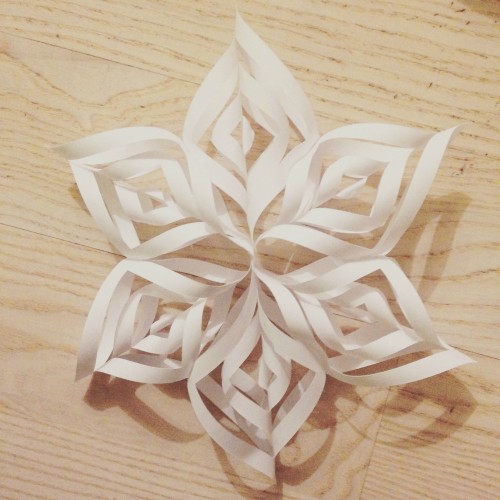 I started making them, and immediately thought… there has to be a better way…
Right away I opened Studio and designed a cut file that takes all the folding and cutting and lets the machine do it. So all you have to do is assembly, and you will have perfectly sized snowflakes every time! My favourite way to adhere everything together is with a low heat glue gun. There are plenty of tutorials out there (just search "3D snowflake" in Pinterest/Youtube). I will try and film a quick little video to put here tomorrow as well.
So what do you do with these snowflakes? These are awesome to put in windows.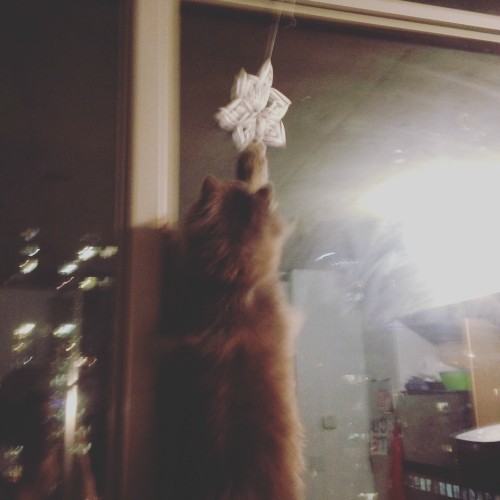 Unless you have a cat….. Or you can decorate mirrors, that looks really pretty: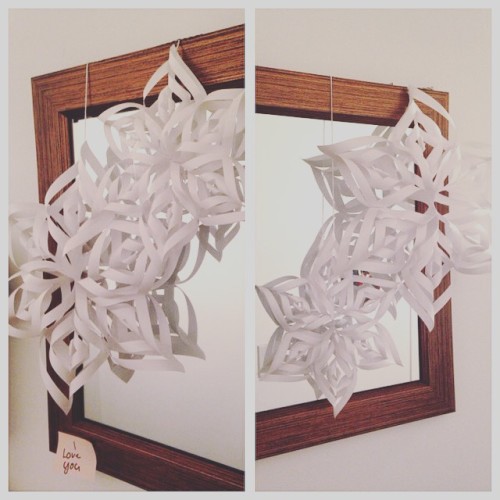 Except….. cat. It was so adorable watching him run around with a giant snowflake in his mouth!!
Finally found a safe place- outside the apartment! It would also look really pretty if I cut a bunch of little ones and linked them together to make a big wreath. Idea for next year? Or you can cut little ones as ornaments for your tree. Please Santa: all I want for Christmas is a little free time (and a kit club sub ;)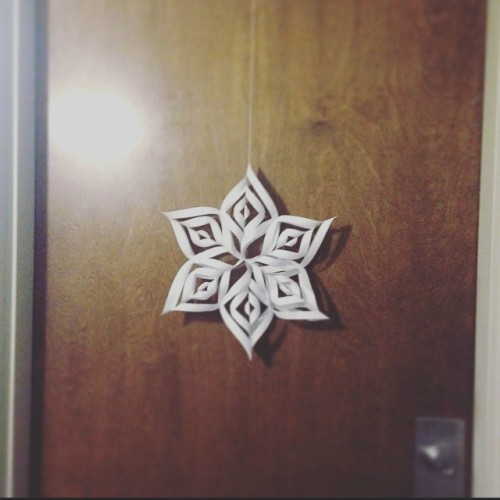 Speaking of sizes, when I made the cut file, I made it in 5 sizes to get the most out of your paper. They are optimized for regular printer paper (though patterned paper ones would be really pretty too…) and can be cut with a Portrait or Cameo. The final assembled sizes are:
XSmall- 5 inches
Small- 6.5 inches
Medium- 7.5 inches
Large- 10 inches
XLarge- 14 inches
You can also scale them to any size you like, keeping in mind that the diagonal length x2 (minus 0.5 inch overlap) determines the final size. Click the picture below for the cut file (and don't forget to pin/share). Oh, and there's a bonus little 2D snowflake cut file in there, like the ones I cut from contact paper and stuck on my window in the first picture of this post ;)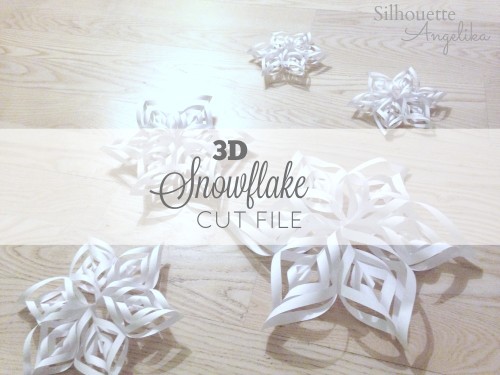 xoxo
-A