On Our Way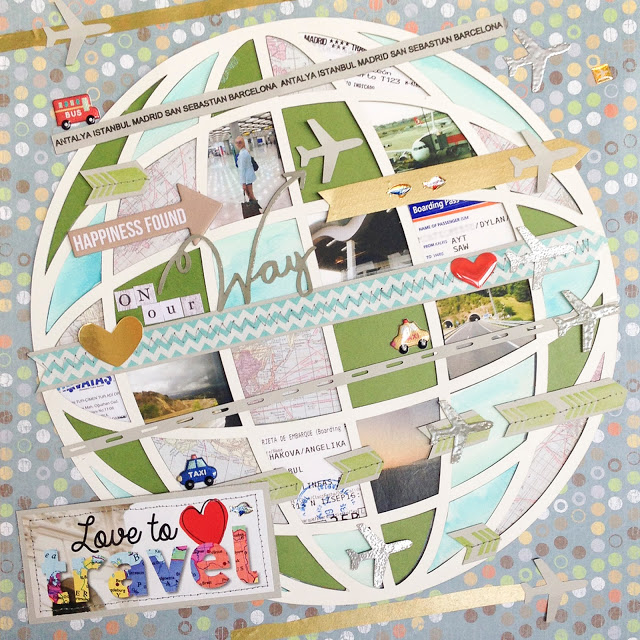 Finally getting around to scrap our trip to Europe from last year! We went to Turkey and Spain. I like to make a little intro page to go before the actual trip pages, with travel photos and boarding passes and maps.
This was the one
I did a couple of years ago for another trip to Europe. We really do Love to Travel :)
For this layout, I was inspired by
this layout by katie_rose
with the planes and the parallel lines going up and right. I also had this idea of a checker-boarded globe, so I put the two elements together to come up with this layout. Green paper from Recollection's Modern Bouquet paper pad made up the "land" tiles, simple blue watercolor on watercolor paper made up the "water", and I used CTMH's map PL card for the map tiles. I also cut up some boarding passes and tickets to fill some of the other tiles.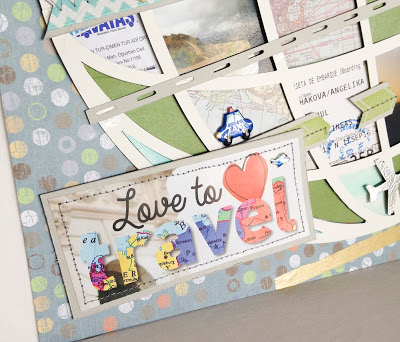 The title came from a little magazine that I picked up in an airport on a layover, that I thought would be perfect for this. I used the sketch pen feature to write out the names of the cities we visited on our trip in a line across the top of the page. I used a simple Arial font in all caps, and the writing was small enough that there wasn't much of a double line.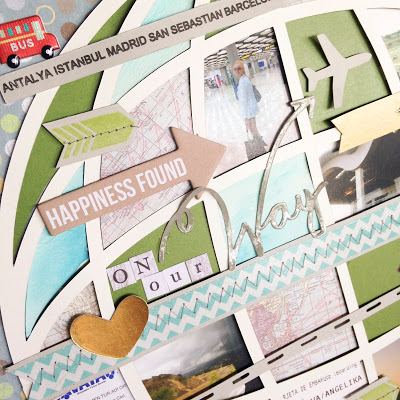 I also made this little Way cut file, that I really wanted to use on this layout, so even though I already had  a title, I added a second subtitle. I used MME's woodgrain Necessities alphas and the Happiness Found chipboard element is from Teresa Collin's Save the Date.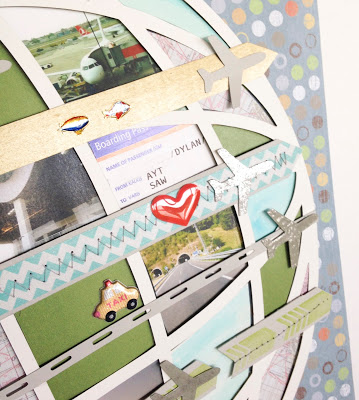 I used gray cardstock throughout the page, some of it silver embossed and some of it clear embossed. I used puffy plane, taxi, bus and blimp stickers throughout the page for a touch of whimsy, as well as a red heart sticker for some visual triangles (all puffy stickers from the dollar store).
Overall, I am really happy with this page, the way it all came together.
I have 2 whole cut files for you today:
xoxo
-A