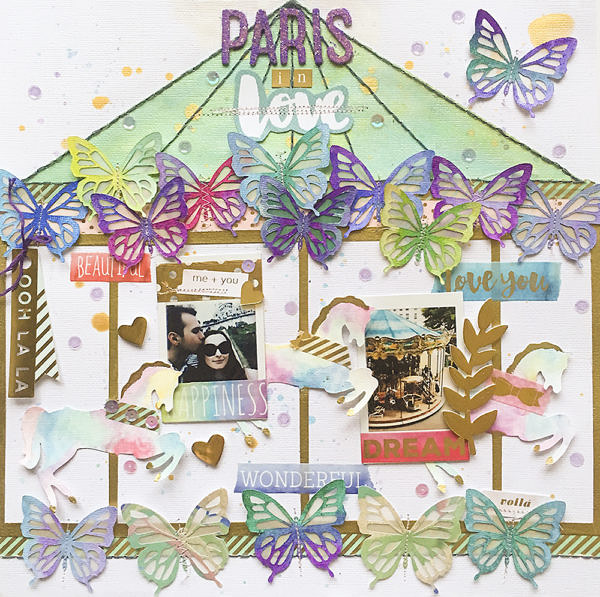 I'm in love- with this layout, with Paris, with Dylan…. and this layout for the ARTastic design team really was a labour of love. It took me about 7 hours to make- it involved a lot of hand stitching, mixed media, backing tiny cut files, etc. The inspiration art was Carousel Delight by Karen Pierce: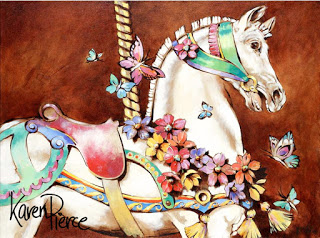 Isn't it gorgeous? I love carousels, they are always so pretty. This reminded me of a beautiful carousel that I photographed at Montmartre in Paris, so I decided to scrap that. The challenge was to use butterflies. I had a picture in my head of how I wanted this layout to turn out, and I'm happy to say that it came out very similar. 
I also tried filming it, not realizing how quickly my phone would fill up filming in 1080p, even if it was time lapse. But 7 hours is a lot! I'm learning.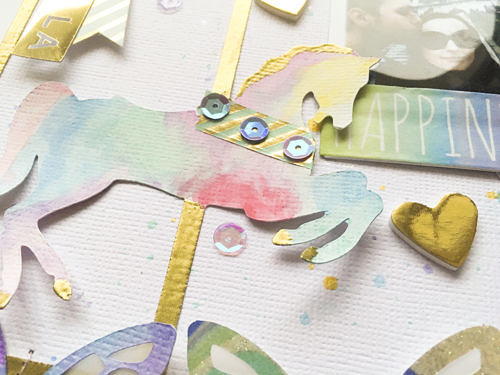 I started with a carousel cut file that I made a while back for a craft project. I cut it from white cardstock, painted the horses with gesso, then watercolours, and then gold embossed the poles  and manes and hoofs. I hand cut a triangle for the roof of the carousel and painted it with various green/blue shimmer sprays. I should have used gesso, as it would have been easier to blend, but it turned out pretty nice anyways, with no warp.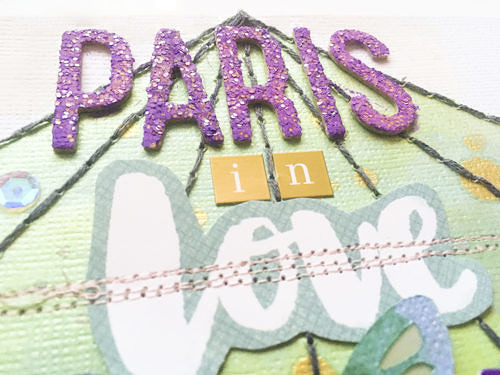 I then hand stitched around the roof and several lines down the slope. For the title, I used my alpha painting technique to get the colour I wanted. I cut love from a sheet of Amy Tan Oh Happy Life paper with various words and phrases, then stitched it down with a back and forth.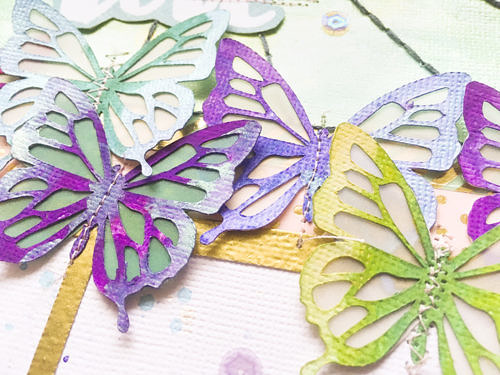 The most time consuming part was cutting all the butterflies, painting them, letting them dry, and backing them with vellum. It didn't help that the first set I cut were way too detailed for the size, and took forever, and didn't look good cause they were all ripped and mangled. So I simplified, which made the cut go that much faster. It also took me a while of playing with placement to figure out that I needed to back them with vellum, otherwise it looked like a jumbled mess. Finally, when I got them how I liked them, I stitched them all down with various stitches.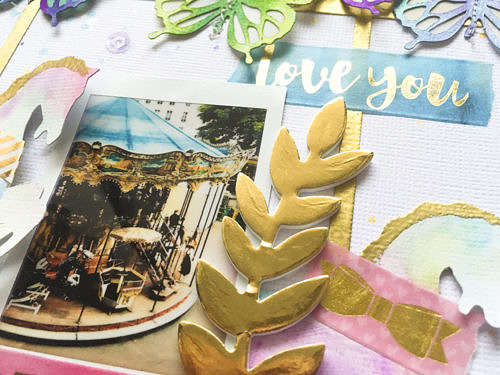 The other touches I added were washi tapes across the top and bottom of the carousel and around the horses' necks, as well as the photos, which I printed on my Instax printer. I added some hearts and a laurel from Paige Evan's Take Me Away thicker sheet.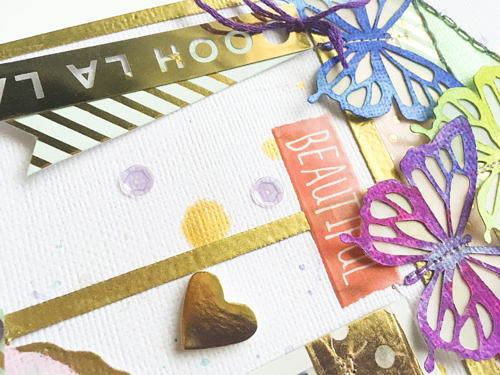 I wanted to use some french ephemera from C'est La Vie, cause Paris.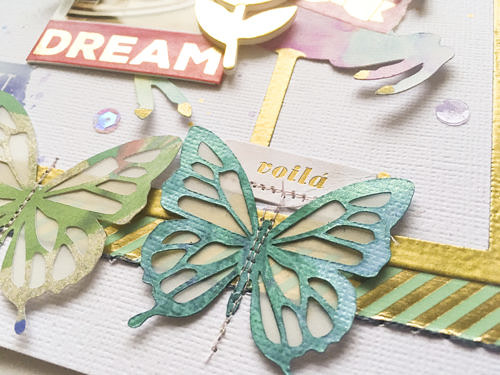 I also cut a couple of butterflies from marbled MAMBI paper. Some clear purple sequins added the final touch to this layout.
I hope you are as inspired as I was by this month's challenge, and upload your creation to the ARTastic challenge blog!
xoxo
-A