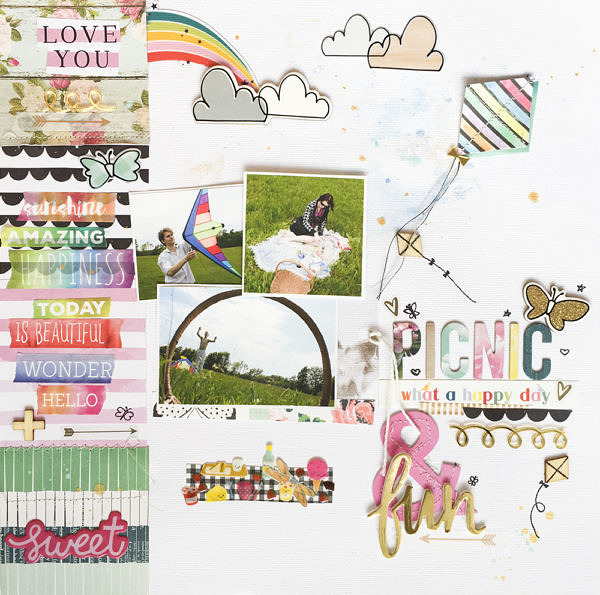 This cute rainbow kite picnic page is for the Stick It Down challenge blog design team, and we are using another sketch designed by yours truly.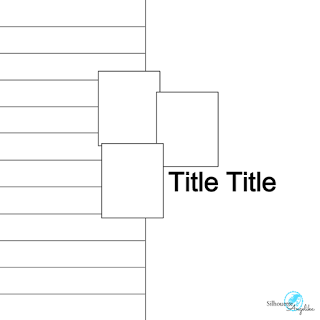 We've got stripes down the left side, three photos clustered in the middle, and a title underneath and right of the photos. I dithered about what photos I wanted to scrap, but I kept coming back to this set of sweet photos from back when we started dating. We went for a lovely picnic date and flew a kite together. The three photos were inspiring me and I had lots of ideas for things to do with this page.
In fact I had so many ideas that I had to cut a bunch because the page was getting so crowded.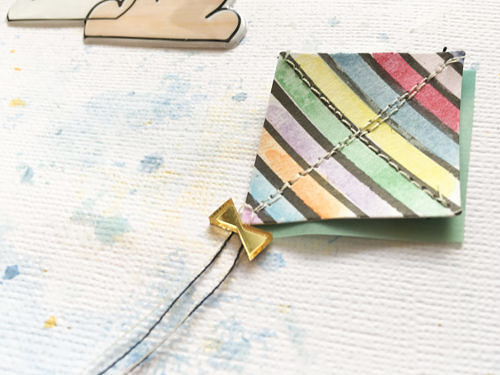 My first idea was the kite. I had a black and white striped diamond from the Pink Paislee C'est la vie ephemera pack which I had painted with watercolours. I then stitched through the center and left the strings trailing from one side. I added a little acrylic bow from MME's Yes, Please, and a printed vellum shadow from Crate Paper Flea Market. I applied a little bit of blue watercolour and gold Heidi shine with the packaging technique in the top to give a bit of a cloudy sky and sunshine effect. Chipboard and puffy sticker clouds from Crate Paper Cute Girl completed my "sky".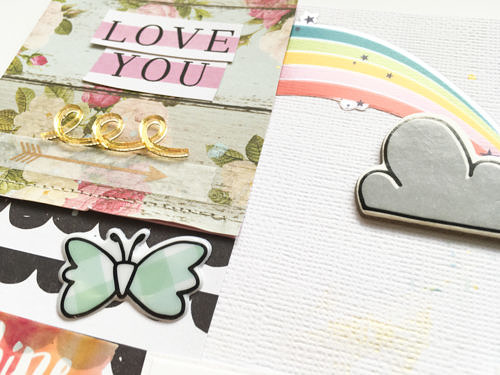 Oh, and I added an acetate rainbow from Pink Paislee Atlas.
For the stripes- I couldn't choose which stripey paper to use! So I decided to do stripes of striped paper! At the top I have blue wood and rose paper from C'est la vie. Next is scallop paper from Cute Girl. After that I have a MAMBI pink watercolour stripe paper. That one had a saying on it which had the words LOVE and YOU which I cut out and glued at the top. Lastly I used green fringe paper from a Crate Paper Bloom cut apart sheet. I also layered some strips of watercolour word washi tape from Michaels.
I had layered a couple of papers under my photos but it ended up being way too much. I removed everything except a strip of branding strip and a little clear rose tag from C'est la vie.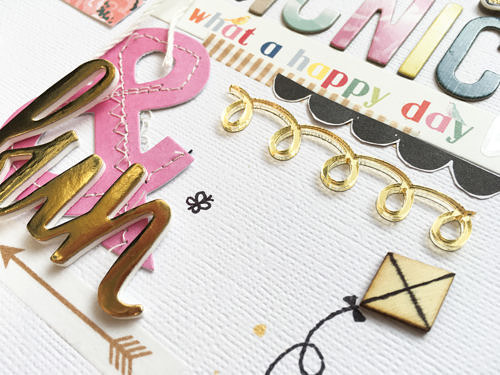 Here I have a c'est la vie ampersand that I stitched on, PICNIC with AC Bloom thickers, fun from PP Take me away, loops from Yes, Please (that one I broke apart and used on the striped part too). The little wood diamonds (and plus sign) are from Crate Paper Shine. I also had washi tape and clear arrow stickers from Heidi Swapp. Lastly that little phrase sticker is Webster's Pages Painted Passport.
My favourite little bit is my picnic blanket: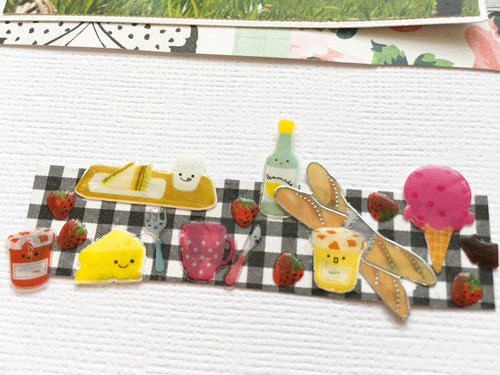 I had a bunch of adorable food stickers and I cut a rectangle of black and white gingham (also from the Bloom cut apart sheet). Some of the stickers were a little bit see through so I added a tiny bit of white gesso on the back of the sticker to make them opaque and glued them on. This was one of the things I was considering getting rid of but I couldn't do it. It was too cute not to include.
Over all a quick and simple page to put together once I decided on what to get rid of. I had wood banners and blossom branches and all sorts of things that didn't quite fit. I'm excite to see what everyone else comes up with for this sketch. Please link up over at the Stick It Down blog!
xoxo
A