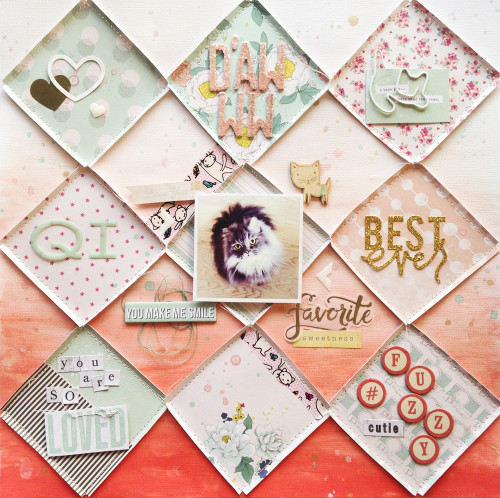 This month at Stick It Down, our gorgeous sketch was designed by team member Purvi! I loved it, especially because I have been wanting to do an ombre background and quilted squares for a while now, and this gave me the perfect opportunity to do both.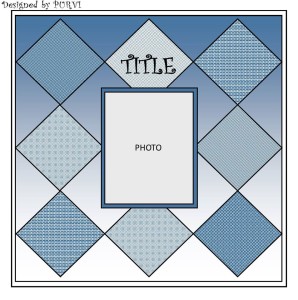 I used gouache paint (it's like halfway between watercolour and acrylic paint) to paint a gesso'd piece of textured cardstock. I'm completely in love with how it turned out! Then I cut a bunch of 3×3 squares from a 6×6 pad of Dear Lizzy Polka Dot Party paper. I cut little notches into the corners and positioned the papers with repositionable tape. I sewed them down giving myself about an eighth of an inch edge allowance, then bent up the edges.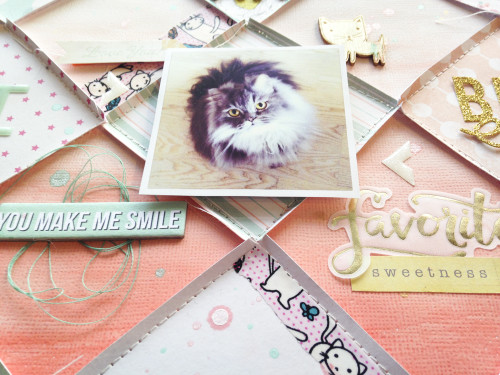 I started with my photo in the middle. I backed it with some white cardstock so the corners don't get bent and used foam dots to adhere it without flattening the bent paper behind it. I started embellishing in the middle and went out from there.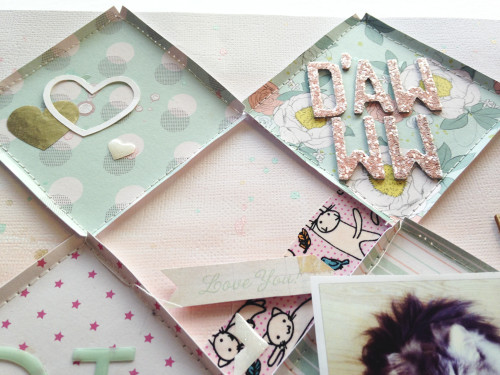 Isn't that the most adorable cat washi tape? It's from Staples! My title was D'AWWW because Qi always makes us say that whenever we text a photo of him to each other. I cut a couple of basic hearts on my Silhouette for the upper right corner, and used white sparkly enamel shapes (heart and arrow) from Heidi Swapp.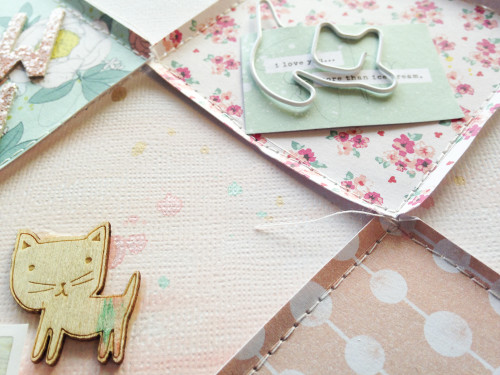 Those kitty paperclips are also from Staples, and the bag comes with white, pink and purple! He is hugging a cut apart from the same Dear Lizzy paper pad. Also, I absolutely adore those kitty wood veneers from Seven Paper!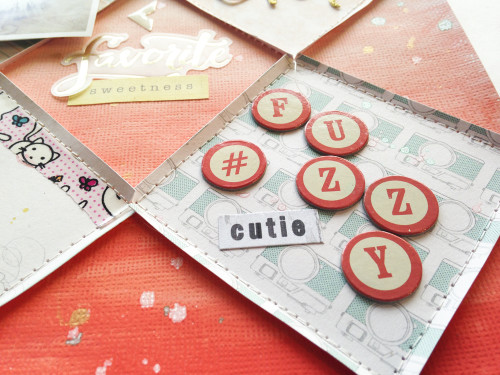 Yes, my camera paper is upside down. Deal with it. The "cutie" and "you are so" (below) are MME Necessities wood alphas. Those AC Bingo Chip alphas matched my paint perfectly.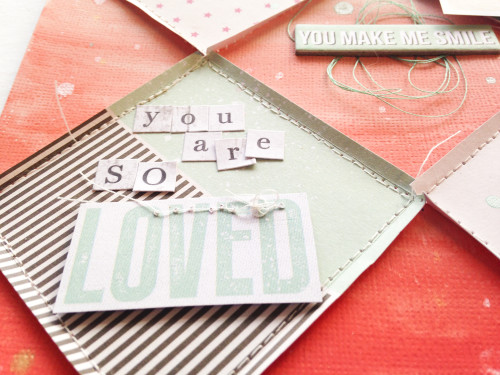 The LOVED is from a cut apart sheet from Teresa Collins He Said She Said, as is that chipboard "you make me smile". I added thread to both, messy stitched and tangled. Also I just realized I don't have any photo close-ups of the middle sides, but they are pretty simple… The "Qi" acrylic alphas and "Best ever" sparkly gold sticker are both Heidi Swapp. It's crazy how much mix and matching you can do between collections and still have everything turn out so matchy-matchy.
I love how this page looks super complicated, but it was so simple to put together and didn't take me very long at all!
Come play along for a chance to win a guest spot on the blog!
xoxo
-A