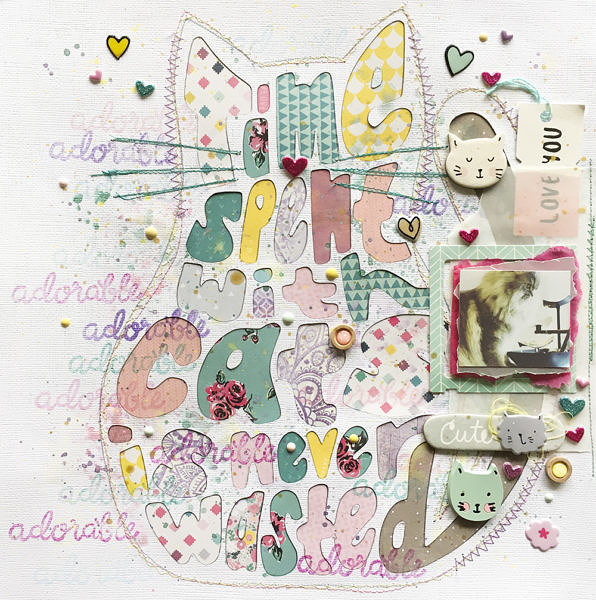 This month's sketch at Stick It Down is a pretty mixed media background with lots of the same word repeated over and over.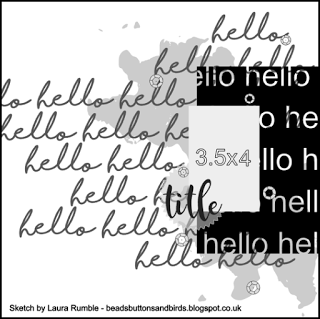 It also make me think of using a large title and I've been wanting to use a large cut file ever since I upgraded from my Silhouette Portrait to a Cameo 3!
I browsed through my Pinterest until I came across a page by Paige Evans, where she made a cut file using the quote in a cat shaped design inspired by a print she found on Etsy. I found the print and made my own cut file from that.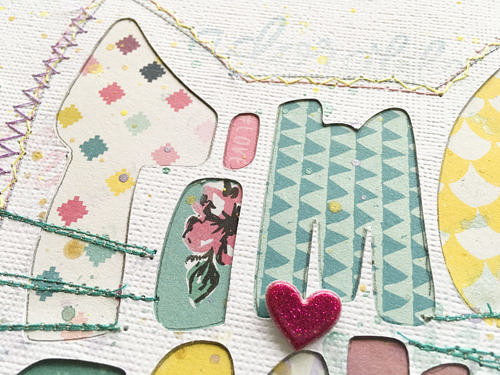 After I cut it, I backed it using papers from the Crate Paper Cute Girl 6×6 pad. I stitched around the whole design using various stitches and colours of thread, especially using a zigzag stitch where my cut is the fuzziest (cheeks and tail). I also did some back and forth stitching in teal for whiskers, and used a puffy glittery heart sticker for the "nose". Cute, if I do say so myself. I applied some watercolours, and shimmer spray using the packaging technique and a brush to splatter and blend.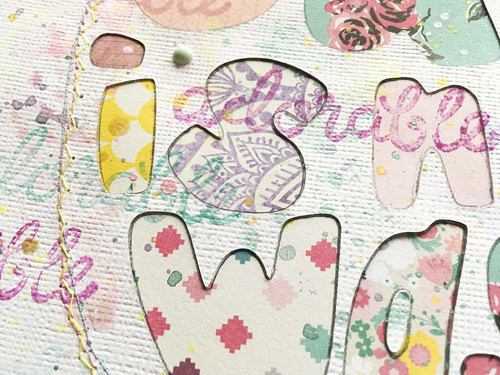 Then I pulled out a bunch of different colored ink pads and the adorable stamp from Cute Girl, and stamped all over. I used teal, purple and light and dark pink inks. To make the words in the cut file stand out, I used a pencil to outline inside the words. It's very subtle, and you don't notice it without a close up, but it makes a HUGE difference in making the design stand out.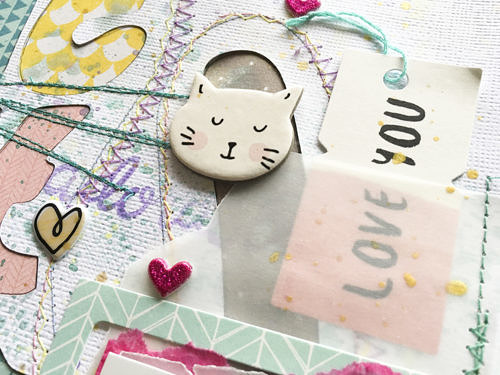 I ripped some vellum to layer under the photo, and stitched it down. It created a little pocket, so I stuck a tag in there. The tag, chipboard stickers, puffy stickers and frame are all from Cute Girl.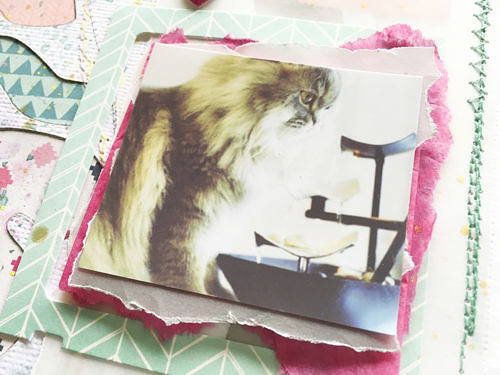 I layered some more ripped vellum, and pink tissue paper under my photo, and popped it up on foam.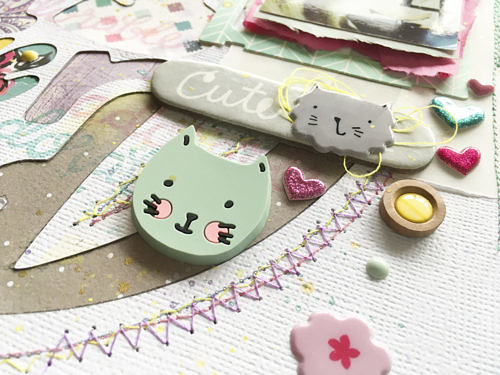 The grey Cute chipboard piece actually said Cute girl, but since this layout is about my cute boy, I just stuck a sticker over the word girl. I added some yellow thread underneath it first though, to give some separation between the two grey elements. I used a wooden button, and some enamel dots from dear Lizzy's Little You, as well as some more puffy hearts. The rubber accent, is once again, Cute Girl. I wish I had a million of those! They are adorable.
I'd love to see your take on this mixed media challenge. Hop on over to the Stick It Down blog to upload yours!
xoxo
A