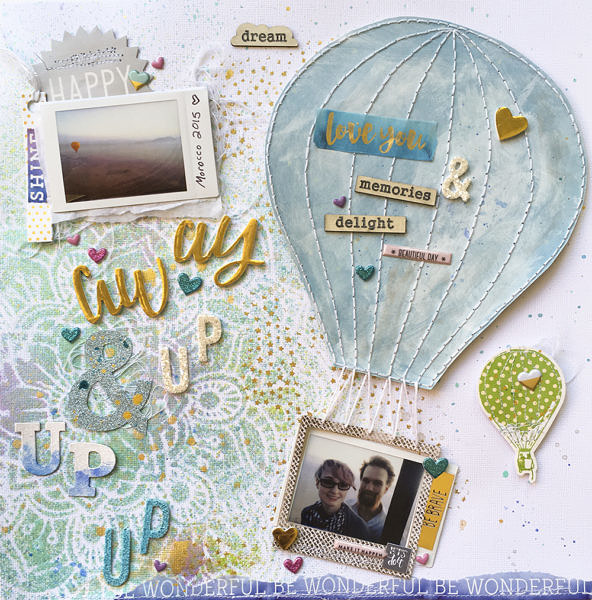 I've been excited to scrap pictures from this hot air balloon ride for forever! So when I saw the inspiration and challenge assignment at ARTastic, I knew it would be perfect for this. The inspiration is this abstract blue and white painting called An Image of November by William Rose.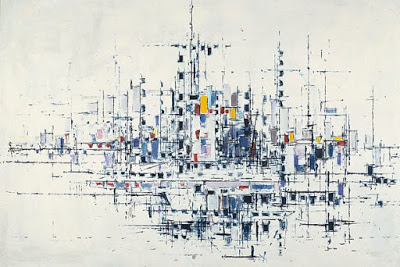 The criteria was to use a stencil. Since the painting is abstract, it really is up to interpretation. I see a cloud city, which reminded me of being up in the sky. I also took inspiration from the colour scheme- blues and whites and pops of gold.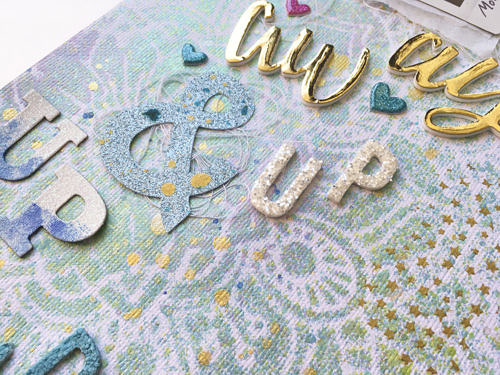 I started with a mandala stencil, which I cut out of scrap cardstock with my Silhouette. I then sprayed teal, green and purple shine spray through the stencil, directly onto my background. I used another stencil to push gold texture paste through to make tiny stars all over. For my title, I wanted a whimsical, floaty effect. I used different blue, white and silver alphas (though I had to paint one set blue, and added blue to another). I cut the ampersand from blue glitter tape with my Silhouette, and glued it over some tangled thread. The away is from Paige Evans' Take Me Away collection, and I liked how its in two pieces so I could space them like I did.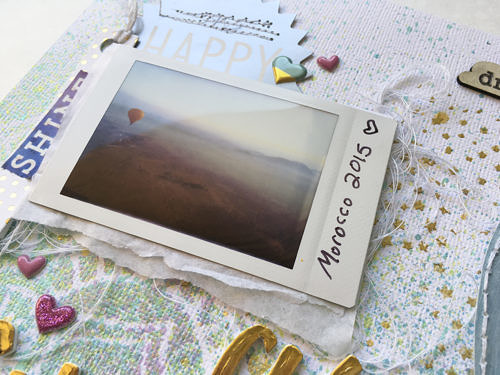 I printed my photos with my Instax printer. I popped it up on foam and tissue paper, as well as white tangled thread to give it a floaty, cloud effect. I also tucked a silver starburst that I stitched on- it's from MME's Then and Now die cut pack (as is the small green hot air balloon). I love mixing metallics- gold and silver look good together, and I'm so happy that it's in right now.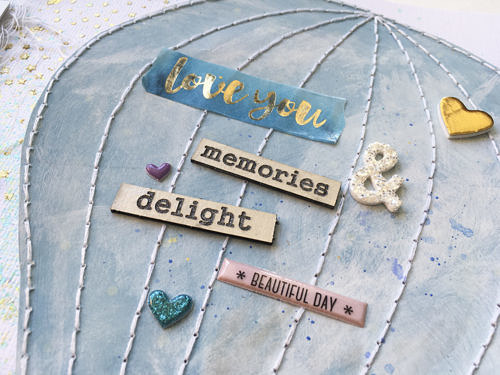 I auditioned several paper for my balloon- I ended up liking a blue polka dot paper, but found it too dark, so I covered it in white gesso. It lightened the paper, but you can still see a tiny bit of the pattern, and it gives it texture and structure. I used white embroidery floss to stitch lines and used a bit of watercolour, and silver and gold paint on top.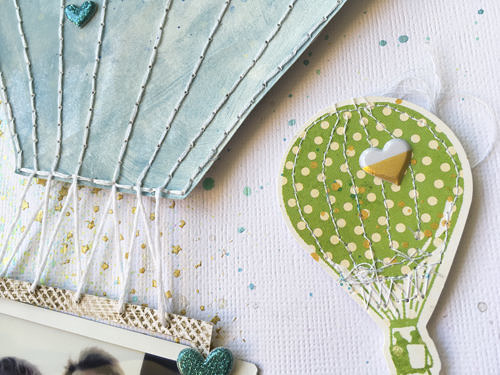 I also used the embroidery floss to attach the balloon to my "basket," which is a frame that I cut from a burlap weave patterned paper from Kaisercraft, and gave it support with chipboard.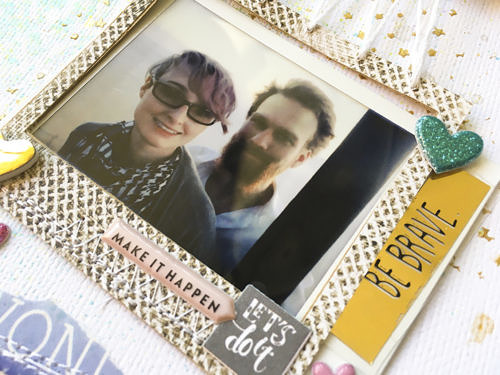 I put the photo of us in the balloon in the basket frame. I can't get over how cute it is :).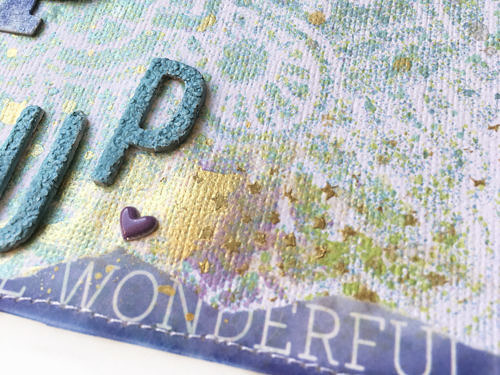 My last finishing touch was the landscape that we were floating over. Our hot air balloon ride was over the Atlas Mountain in Morocco. I used an indigo washi tape and ripped it in half down the center. I also stitched it down to make sure it stays down. I smeared some purple and gold shine spray above to make it kinda a sunrise (ok, the purple was an accident when I was spraying the stencil… but as Bob Ross says- "We don't make mistakes, just happy little accidents.") An I am super happy with how it looks.
I hope this painting inspires you as much as it inspired me! Remember to link up at ARTastic challenge blog for a chance to win some awesome prizes.
xoxo
A