As promised, here are some more snowflake cards.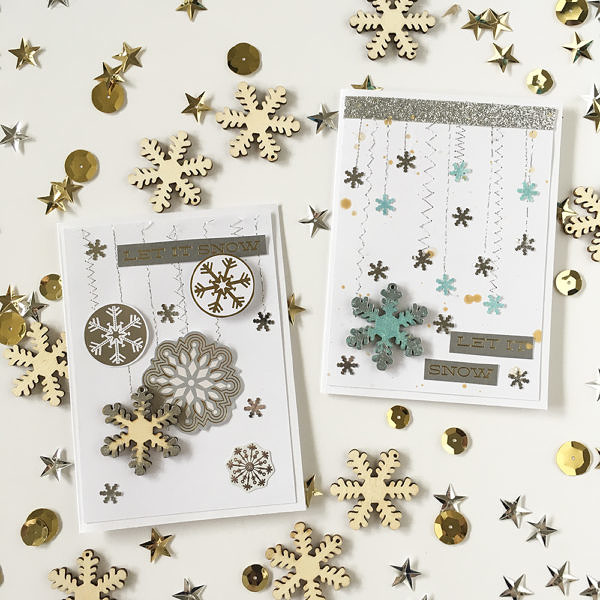 Let's start with the left one. As you can see, its the same little wooden snowflake as I have scattered in the background. I bought a big pack of those at Michael's. For this one, I used silver embossing power on the edges, and left the middle nude. I fussy cut some snowflakes from that paper pack I got. I also used a tiny snowflake punch on some silver paper. I used silver thread to stitch lines of varying lengths and patterns. I popped one of the fussy cut snowflakes on foam to match the dimension of the wooden snowflake. Since I had a limited amount of cut apart snowflakes, I was only able to make one card like that.
For the card on the right, I did an experiment using teal Heidi Swapp Color Shine on the wooden snowflake. It turned out very shiny, but I still wanted to emboss the edges. I also used the paper that I sprayed the color shine onto the snowflake on to punch more blue ones. I used silver glitter tape to "ground" the snow lines (cloud? sky?). I didn't love the teal snowflake, as pretty as it was, so I also only made one of this card.
We have three more days of cards left, and they are neither snowflakes, nor trees. Come back to find out what else I made.
xoxo
A