Welcome to Stick It Down's June blog hop!
Several of our design team members have created projects to share with you using any of our past SID sketches. If you've never participated in a blog hop before, you'll "hop" from blog to blog to visit each designer's page and project. You'll leave a comment at each stop along the hop. The hop will end here where you started, where you can comment to let us know you've completed the hop and you're entered to win the grand prize. You have until Monday June 6 at 11:59pm to complete the hop. The winner will be announced on or before June 9.
We have several prize packages and one grand prize lined up! Paper Wings Productions is generously sponsoring our blog hop and is offering a gift certificate to the online store!
Paper Wings Productions is owned by Carrie Edelmann Avery. All of the PWP stamps are produced in the USA and are made using the highest quality of materials. You can check out the PWP online store to see the red rubber cling stamps and the clear photopolymer stamps!
In addition the the grand prize, many of our design team members are offering prizes on their blog and we also have a few other prizes lined up. We've also made it possible to earn additional entries for prizes by following the SID blog, our Facebook page, the PWP blog, and the PWP Facebook page.
Are you ready to get started? Here is the order of the hop, in case you get lost:
Evelyn
Sharon
Jess K
Grace
Shanna
Hanne 
Lori
Angelika  <— You are here :)
Tina
Jessica S
Ali 
Alison
Loreto
Colleen
Stick It Down
This is my layout for the StickitDown challenge blog hop– this month is the 1 year anniversary for Ashley taking over the blog. I'm super excited, this is actually my first hop! You should have arrived here from Lori's blog.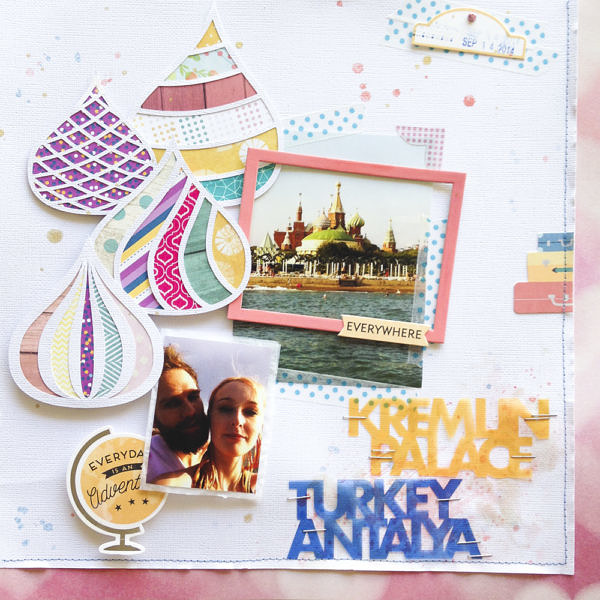 I am slowly plugging away at my travel scrapbook pages; this one is from my trip to Turkey in 2014. My whole family banded together from Russia, Ukraine and Canada, and we all met at a resort in Turkey, on the Mediterranean sea. The resort was called the Kremlin Palace and it was modeled after the cathedral in Moscow. I used this sketch from the StickItDown sketch archive: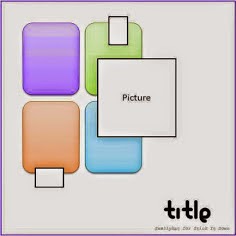 I was drawn to this sketch by the 4 colourful elements. I had been thinking about doing something fairly similar for the Kremlin Palace page, but using a cut file to make 4 "onion bell tower" shapes to look like the spires of the Palace. So I made the cut files and cut them from white cardstock and backed them with colourful patterned papers. I spent a long time arranging them around the photos, and ended up going for a more organic configuration rather than the grid pattern. I also wanted them to look more 3D, so I staged the amount of backing I put on each spire- nothing on the first one, one layer of foam tape behind the second, two layers behind the third, and foam dots, which were thicker than two layers of foam tape, under the fourth. So it kinda looks like it's coming out of the page.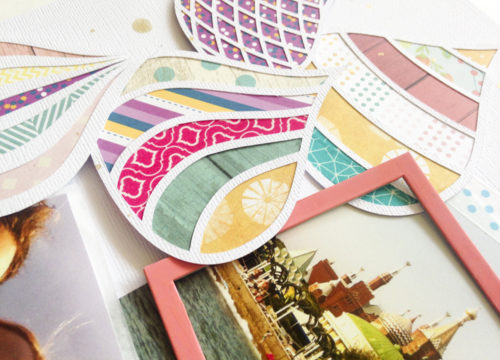 With all the pattern papers in the cut file, I didn't really want to do a lot of layering under the photos. I taped down the big one with polka dot washi tape and backed the little photo with tissue paper. I also popped it up on foam to make it stand out a bit from the big one. I used a couple bits of ephemera from Pink Paislee's Atlas collection. I love all the globes that came in that ephemera pack.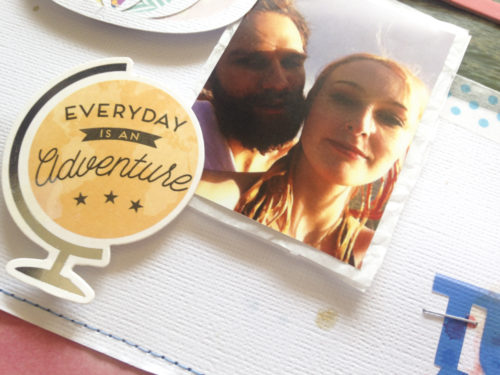 That EVERYWHERE banner and polka dot photo corner are also from the same ephemera pack. The chipboard frame was an old one from my stash, I jazzed it up a bit with some paint as it was was very sunfaded, and to make it match the ephemera.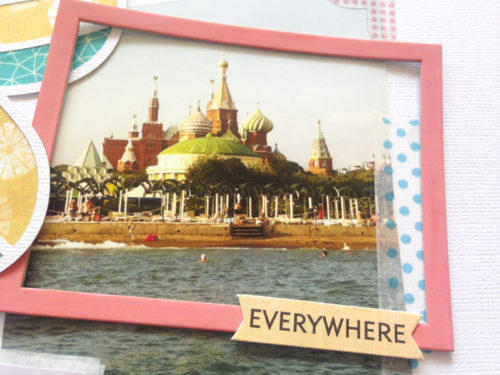 My title was my favourite bit of this layout. I've been really loving those acetate words from Pinkfresh studio that I've been seeing everywhere. But if you know me, you know I like to DIY those kinds of things, and with the help of my Silhouette I was able to make a fairly similar, custom product out of plastic page protectors! Even better that I already had them lying around, I bought a couple packs a while back from Staples. I've used them to make stencils. I just use the stencil material setting on my Silhouette and it cuts like butter. For the cut file, I just used the font Aharoni in all caps to write my words, then I right-clicked the words and selected "Ungroup". I moved each letter to that they would be a tiny bit overlapped and then selected everything and clicked "Weld" in the Modify window.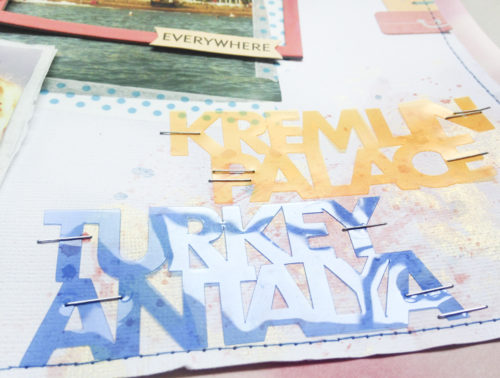 I wanted to keep the background fairly white, because my backed spire cut files were so colourful. I couldn't resist adding a tiny bit of mixed media though! I used the packaging technique to apply some watercolours and gold shiny paint, and I splattered it all over the page. Unfortunately, it looks a bit… muddy looking straight on, but the moment the light hits it, it lights up in a shiny gold! It looks pretty cool peeking out from behind the acetate words. Lastly, I wanted to add a bit more pink, so I trimmed off two sides and half-framed it with pink heart paper from Crate Paper's Flea market.
Anyways, hop on over to the next blog on the list, which is Tina's! Have fun!
xoxo
-Angelika